Do I need a CRM system or a marketing platform as part of my marketing technology (MarTech) stack? It's something we're asked a lot. 
Knowing what marketing and/or sales software your business needs is a question that stumps most people. And you're not alone if you've found yourself tearing your hair out as you hunt through Google for the answers. 
To help you make some sense of it, this article will run through sourcing the right software without breaking the bank or biting off more than you can chew with something ridiculously advanced. You don't want to start searching for a reliable run-around car and end up buying a military-grade Humvee. So let's break it down.  
Firstly, what is CRM?
CRM stands for Customer Relationship Management. A CRM system manages and stores every interaction and touchpoint between your business and your customers in one easy-to-view central location. Marketing, Sales, Account Management, Support… all operational from one system or collective group of systems. 
All this data provides a 360-degree picture of your customers' needs, interests, and pain points, which allows you to improve their experience and streamline your internal processes. In plain English, it means a quicker and smoother end-to-end journey from initial interest through to purchase and retention. 
Do I need a CRM system?
If you're in the B2B space, then yes you do. CRM software is essential for your organisation as it will manage your entire Commercial function, including your Sales pipeline and Marketing outreach, to name just a couple. 
If you're a B2C brand, then you might find that an all-in-one CRM system is not the best tool for the job, especially looking for marketing capabilities.
So what's the difference between a CRM system and marketing software?
While a CRM system manages your entire Commercial function, marketing software focuses on content delivery with email marketing as a standard. This includes creating lists for opt-in users and sending emails to those lists, segmenting the audience, creating email templates, and tracking performance. 
But email marketing is only a small fraction of successful multi-channel marketing campaigns, so add ons such as SMS, onsite notifications, and even direct mail triggers, are also worth considering. This is because different segments of your audience will have a preferred method interacting with your communications.
What software do I need then?
Our goal is to always make sure affordability is front and centre; there's no point committing to a high-spec platform and then having to wait for your contract to end before you can downgrade. Get the foundations right to start, then upgrade as and when you need it.
To give you a solid starting point, we've created a flowchart that will identify what type of software you need and how advanced it needs to be. If you need our services further to chat through any specific requirements you may have, just drop us a line below.
Think of us like a mortgage broker, but for MarTech.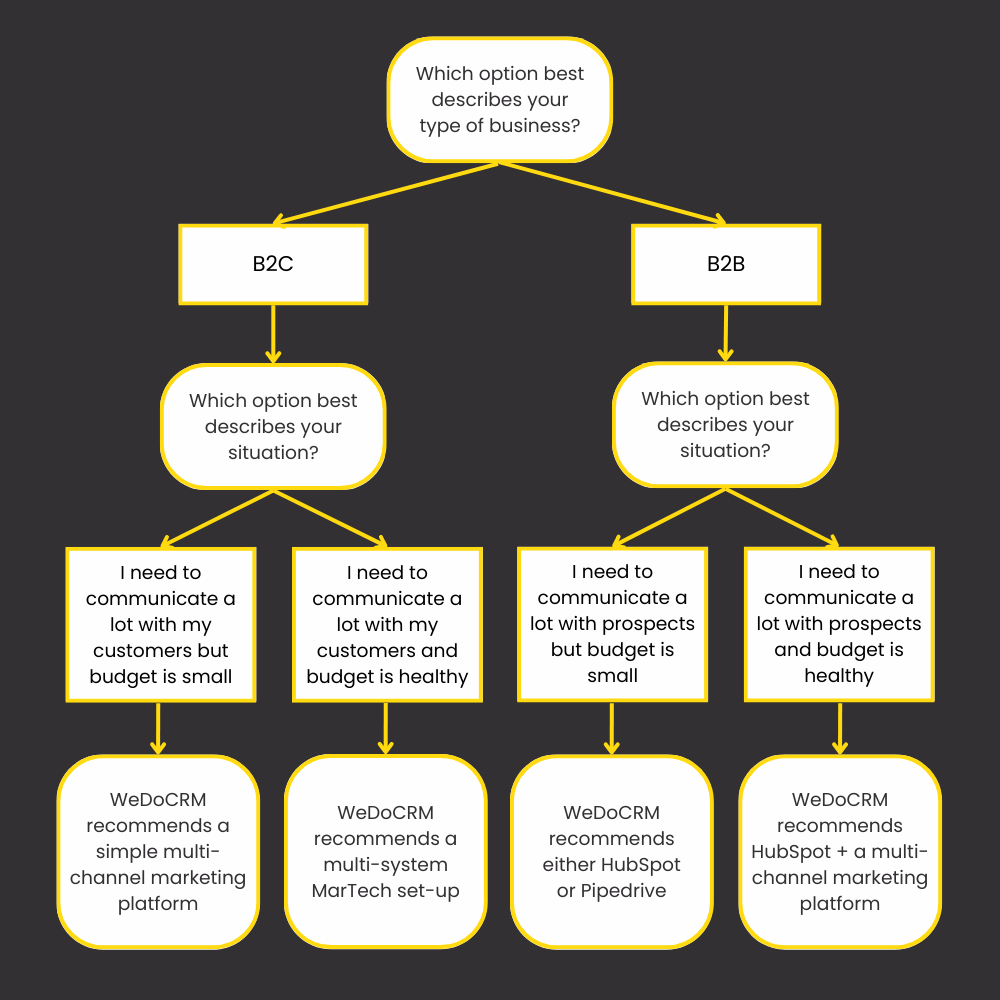 Chat to us more about your recommended software by contacting us below.